History of Henry & Sons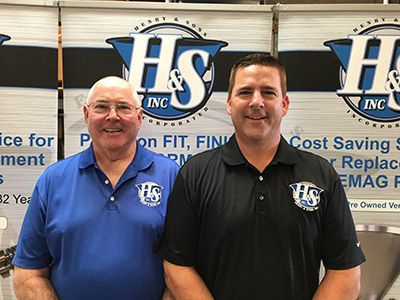 Henry & Sons Inc. was founded by Mr. David Henry in 1980. Mr. Henry had accumulated 15 years of experience in the food processing industry prior to establishing his own company. His experiences taught him two things in particular OUR CUSTOMERS' REQUESTS ARE FIRST AND FOREMOST and WE CAN MAKE A BETTER PART and with this philosophy, moved forward with the company.
Mr. Henry originally intended for his company to provide service to his customers existing machinery. It was only after his first few months of servicing equipment that his customers started demanding that he start making replacement parts for their Vemag stuffers. After 38 years of excellence to our customers we now manufacture and provide thousands of replacement parts for Vemag vacuum fillers.
Mr. Henry's son Mark Henry was raised around the business and is now the Vice President of the company. Together they make the business what it is today with commitment and dedication, the backbone of their success.
In 2003, H&S unveiled a new patented concept in ground beef 'chub packaging' with Chub Innovations. With this new technology customers could double or even triple the shelf life currently being achieved with conventional packaging. This technology is just the beginning of what is to come in the future of this kind of packaging.
In 2018 H&S released their all new AC-30E Vacuum Filler with state-of-the-art proven duel servo technology. THIS NEW MACHINE ALSO INCORPORATES AND INDUSTRY GAME CHANGING FIRST OF ITS KIND 100% CLIMATE-CONTROLLED ELECTRONICS. All electronic components are cooled, dried and heated adjusted automatically to prolong the life, dependability and performance.
---
Our Philosophy
Parts
At H&S we believe that replacement parts can be manufactured to a higher standard. It is with this principal we take the necessary time to refine specific problematic parts and incorporate improved design and materials to yield a more dependable longer lasting part.
Equipment
As an extension of our parts philosophy, it was only a matter of time until we built our own machine. With instant success, the first model AC-20 was introduced in 1998. Henry & Sons concept of building equipment is simple. We build it virtually unbreakable, American made and we make it simple to use and maintain. It is with this thought process which has taken Henry & Sons to a new level of performance and success in offering our customers extremely redundant equipment.